Organ Library Music Sales will be closed for most of July and the beginning of August in 2018 due to the construction on the Mass Pike bridge very near to Boston University. Email (orglib@bu.edu) will get through to staff, but physical access to the library will be limited, so orders may not be able to be filled until mid-August. Thank you for your patience.
Collections
Musical Scores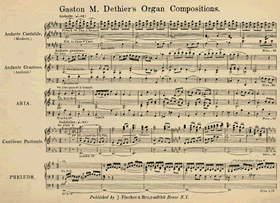 The core of the collection consists of printed scores and manuscripts of organ music: individual works, anthologies, pedagogical materials, music for organ with other instruments, and facsimile editions. In addition to the standard repertoire for the instrument, the Library preserves many works by lesser-known composers of the late nineteenth and early twentieth centuries. Over 35,000 pieces of music are currently searchable online through the Web Catalog according to multiple criteria. Since the Organ Library is a research library, materials do not circulate, nor are they available through Inter-Library Loan. Out-of-print material not protected by copyright can be photocopied and be mailed anywhere in the world. Photocopies of protected material can be made only with the written permission of the copyright holder. Inquiries and requests should be addressed to the Librarian at orglib@bu.edu.
Books and Periodicals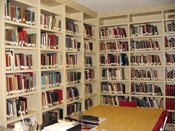 The Library's extensive book and periodical collection emphasizes literature composed for the organ, composers who have made notable contributions to the repertoire, performance practice, and pedagogy. These are catalogued according to the Library of Congress system and accessible through Tinycat.

Archives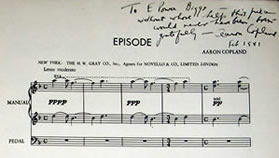 A unique resource of the Organ Library is its collection of archives that document the careers of notable American and European organists. The largest of these, occupying sixteen file drawers, documents the concert appearances and recording activities of E. Power Biggs. A few of the larger archives are listed elsewhere on this website.
Recordings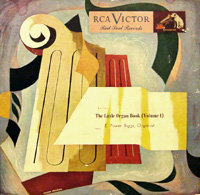 The Organ Library owns the entire recorded legacy of E. Power Biggs: hundreds of reel-to-reel tapes that document the many series of recordings he made in Europe and America. These are stored offsite, but the listening room at the Library contains hundreds of LPs and CDs, filed by performer that may be auditioned.