T. Tertius Noble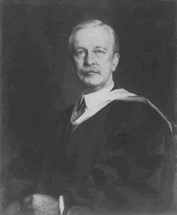 Thomas Tertius Noble (1867-1953) studied at the Royal College of Music and served as organist and choirmaster of York Minster before coming to the United States in 1913 to become organist and choirmaster of St. Thomas Church in New York City, where he established a choir school, remaining there until his retirement in 1947.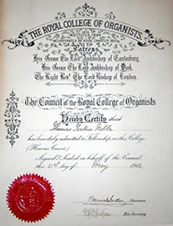 Noble was distinguished for the quality of his music program at St. Thomas. He composed a significant amount of choral, vocal, orchestral and organ music.

T. TERTIUS NOBLE (1867-1953)
Papers (1881-1953)
The papers are divided into a large number of folders, the complete extent of which is yet to be determined.  Included are several oversize scores stored in four large document boxes.
Work in process by Ghilyana A. Dordzhieva
ACQUISITION:
T. Tertius Noble's manuscripts and memorabilia were deposited in the Organ Library upon the death of his son, Philip Raymond Noble.
TERMS OF USE:
Access in unrestricted.  Appointments can be made to view and study these papers, to which The Organ Library holds the copyright.  The collection is on long-term loan to the Organ Historical Society, and is housed in their headquarters in Villanova, PA.  Contact Dr. Carl Klein at orglib@bu.edu.
COPYING:
Papers may be copied in accordance with the Library's usual procedures.
BIOGRAPHICAL NOTE:
Thomas Tertius Noble was born at Bath, Colchester, in 1867.  At the age of 13 he was appointed organist of All Saints Church in Colchester.  Between 1885 and 1889 he studied at the Royal College of Music in London with Walter Parratt, Frederick Bridge, and Charles Villiers Stanford.  In 1892 he became assistant organist at Trinity College, Cambridge, leaving two years later to become organist at Ely Cathedral.  From 1898 he held a similar post at York Minister, where he founded a symphony orchestra and directed the York Musical Society.  Noble was in demand as an organ recitalist in Britain, and he made a concert tour of North America.  In 1905, he was appointed honorary Fellow of the Royal College of Organists.  T. Tertius Noble married Meriel Maude Stubbs, eldest daughter of the Dean of Ely, in 1897.  His only son, Philip Raymond Noble, was born in 1903.
In 1913, Noble emigrated to the United States to take up a position as director of music at St. Thomas Church in New York City, where he established a choir school in the English cathedral tradition (1919).  He retired from St. Thomas in 1947 at the age of 75, and spent his last years in Rockport, Massachusetts, at St. Mary's Episcopal Church, where he continued to compose until his death on May 4, 1953.
T. Tertius Noble was an outstanding musician, organist and choirmaster.  Known now primarily as a composer of a sacred music—anthems, hymntunes, original organ works, and the two celebrated collections of free organ accompaniments to familiar hymns—he was also a composer of operas, orchestral works, chamber music, and songs.  His monograph The Training of the Boy Chorister was published in 1943.  His unpublished "Memoirs" is a unique source of great interest about his own career and about musical life in England and United States.
SCORE AND CONTENT NOTE
The T. Tertius Noble collection at the Organ Library provides the most comprehensive documentation in existence of the life, professional career, and works of T. Tertius Noble.  The papers document the period between 1881 and 1953.
The collection includes both published compositions and autograph manuscripts.  His correspondence, scrapbooks, and the unpublished "Memoir" provide an excellent autobiographical account, especially of his life in England.  They are also invaluable sources for the musical life of his time and his encounters with famous composers and organists.  Further documentation concerns the publishing of his works and establishing copyright.
The photographs (sepia; black and white) included in the collection depict many musicians, organists, family members, and buildings.  The photographs were originally scattered throughout the collection in no order and mostly without titles to identify either people or places.
[The following new finding aid has been prepared by OHS assistant archivist Janeen Lamontagne in December 2021, and is currently housed at the Organ Historical Society Library and Archives in Villanova, PA]
TTN Finding Aid in pdf – new 2021 from OHS
[Previous to the collection being loaned to the OHS, the following finding aid was created and used at the Organ Library]
The papers of T. Tertius Noble have been sorted by kind and date of record in five series
SERIES I. Original compositions: scores and manuscripts, 1884-1948
SERIES II. Biographical papers, 1867-1953
SERIES III. Articles and newspaper notes about T. T. Noble, 1889-1944
Subseries III-1. Articles and newspaper notes about T.T. Noble, 1889-1944
Subseries III-2. Papers of Philip R.Noble
Subseries IV-1. T.T. Noble's correspondence with the family members, 1839-1922
Subseries IV-2. Correspondence of Philipp R. Noble, 1912-1952
Subseries IV-3. Business/professional correspondence of T.T. Noble, 1889-1952
Subseries IV-4. Certificates and notification about copyright
Subseries IV-5. Cards
SERIES V. Concert programs and orders of services, 1888-1969
SERIES VI. Nobles photos
Subseries VI-1. Photos of T.T. Noble, his family, friends and colleagues