E. Power Biggs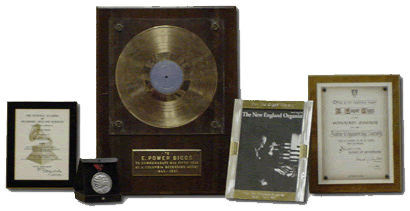 The centerpiece of the Organ Library's archives is the legacy of renowned concert organist E. Power Biggs (1906-1977). These include 16 file drawers of concert programs, correspondence, publicity material, radio broadcasts, and documentation regarding his recording activities. His music is incorporated into the general holdings of the Library, but the scores and parts used for recordings with instrumental ensembles are preserved separately.
b. March 29, 1906, Westcliff-on-Sea, Essex, Eng.
d. March 10, 1977, Boston, Mass., U.S.
In full EDWARD GEORGE POWER BIGGS, English-born American organist who brought to many distinctive, incisive colors of historic organs of many countries, as well as a wealth of classical organ literature from all periods.
Biggs, after training at the Royal Academy of Music in London, settled in the United States in 1930. Through appearances with major orchestras and weekly radio broadcasts (1942-58), he established the organ as a concert instrument. Refusing to perform on electronic organs, he sought out and recorded historic organs associated with the music of composers such as Bach, Handel, Mozart, Haydn and others, introducing listeners to their unique sounds for the first time. He also commissioned and premiered works by contemporary composers such as Piston, Harris, Pinkham, Sowerby, and Villa-Lobos.
Beginning in the 1940s, he edited a number of collections and editions of music, including the still popular Treasury of Early Organ Music and editions of the organ works of Schumann and Brahms.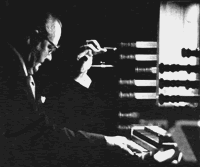 At the Flentrop
In 1958, Biggs commissioned a 3-manual tracker-action organ from the noted Dutch builder D. A. Flentrop, which was installed in the main hall of Harvard University's Busch-Reisinger Museum (now Busch Hall) in Cambridge, Mass., a room with splendid acoustical properties. Here Biggs gave recitals and made a number of recordings, including his popular Bach Favorites series, now being re-released as CDs. Shortly before his death, Biggs donated the organ to the University, which has since sponsored an annual recital series featuring many noted players.
---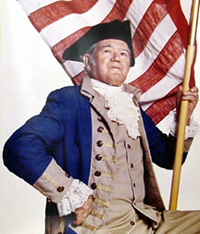 American Music
From the time of his arrival in the United States, Biggs was a champion of American music. During the 1940s and 1950s he encouraged young American composers to write works which could be performed on his radio broadcasts, and often included larger works by Americans, such as the well-loved Variations on 'America' by Charles Ives, in his recital programs. In line with his interest in historic music of all countries, he made two recordings of 18th- and 19th-century American organ music. Shown here is the cover photo taken for the second of these, issued at the time of the bicentennial celebrations.
---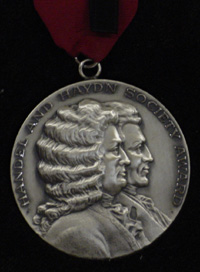 Awards
Beginning with his college days at the Royal Academy of Music, Biggs won many awards for his playing and recordings, including listener awards from his radio days, the Columbia "gold record" shown in the collage at the top of this page, and this medal presented by the Handel & Haydn Society, founded in 1815 and Boston's oldest musical organization.
---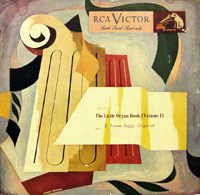 Early Recordings
Biggs began his recording career with RCA Victor, later continuing as an exclusive artist for Columbia Records. Shown here is the cover of one of his early 78 rpm Victor albums: the chorale preludes in J. S. Bach's "Little Organ Book" (Orgelbüchlein).